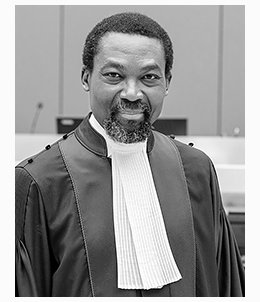 In this episode, I speak with Judge Chile Eboe-Osuji, Judge and President of the ICC until he stepped down earlier this year. He served as Judge on the ICC for almost ten years, and was President of the Court for three. Prior to that he was Legal Advisor to the UNHCR, and before that, a prosecutor at the International Criminal Tribunal for Rwanda. Orignally from Nigera, Judge Eboe-Osuji is a Canadian, and he practiced law in Toronto prior to his international law career. He is soon to take up a new position at the Lincoln Alexander School of Law at Ryerson University in Toronto. In our conversation Judge Eboe-Osuji reflects on his role in the development of the ICC, and some of the criticisms of the Court, before turning to a more detailed discussion of the meaning of the term "directing attacks" in the Rome Statute, through the lens of the Ntaganda case. This leads to a discussion of the relationship between so-called Hague Law and Geneva Law in IHL, and between war crimes and crimes against humanity within the Rome Statute, all within the context of the object and purpose of IHL, and the need for intelligibility and accessibility as a fundamental component of the rule of law – fascinating discussion!
Materials:
– The Prosecutor v. Bosco Ntaganda, Appeal Chamber Decision, Mar. 30, 2021.
– The Prosecutor v. Bosco Ntaganda, Trial Chamber Decision, Jul 28, 2019.
– Abhimanyu George Jain, "The Ntaganda Appeal Judgement and the Meaning of "Attack" in the Conduct of Hostilities War Crimes," EJILTalk!, Apr. 2, 2021.
– Ronald Acala and Sasha Radin, "Symposium Intro: The ICC Considers the Definition of 'Attack.'" Articles of War, Oct. 27, 2020.
Reading Recommendations:
– Stanley Milgram, Obedience to Authority: An Experimental View (1969).
– Hannah Arendt, Eichmann in Jerusalem: The Banality of Evil (1963).
– Timothy Snyder, On Tyranny: Twenty Lessons from the Twentieth Century (2017).